Description
Included Items
1x ROBOHERO Standard Edition Finished Model
1x Battery(Included)
1x Battery Charger
1x Quick Start Guide
Meet your new robot companion!
RoboHero is the perfect way for anyone to get into the fun and exciting world of robotics! This ready-to-run version is ideal for the robot enthusiast who enjoys playing more than building. RoboHero is easy to control – just download the free smart device app and watch him carry out your commands instantly!
Simple enough for beginners, but with customization to entice experienced robot fans as well.
At 9" tall, RoboHero is just the right size for exploring desks, tables, floors, etc.
Download the free app to control your robot with Apple and Android devices.
The Arduino-compatible control board features easy-to-understand hardware/software.
17 joints equipped with high-torque servos provide steady, fluid motion.
Choose from 42 pre-programmed routines/motions, including dancing, clapping, balance, going from a prone position to standing, and many more.
Use the Action Editor to create your own functions and programs, and share with others.
Enjoy up to 45 minutes of robotic action after charging the 7.2V 550mAh Lithium battery.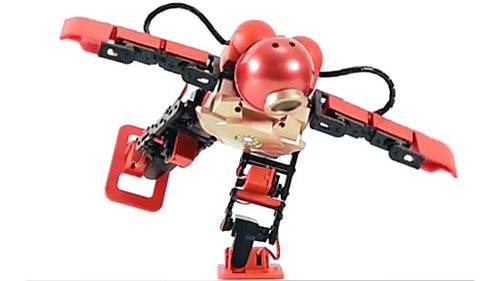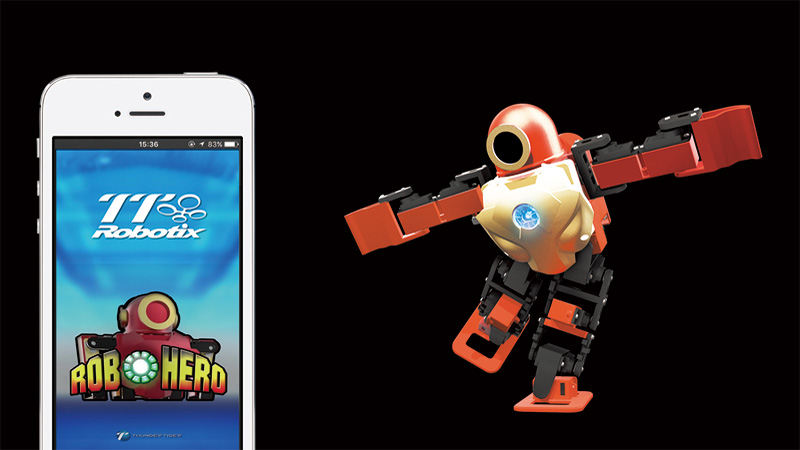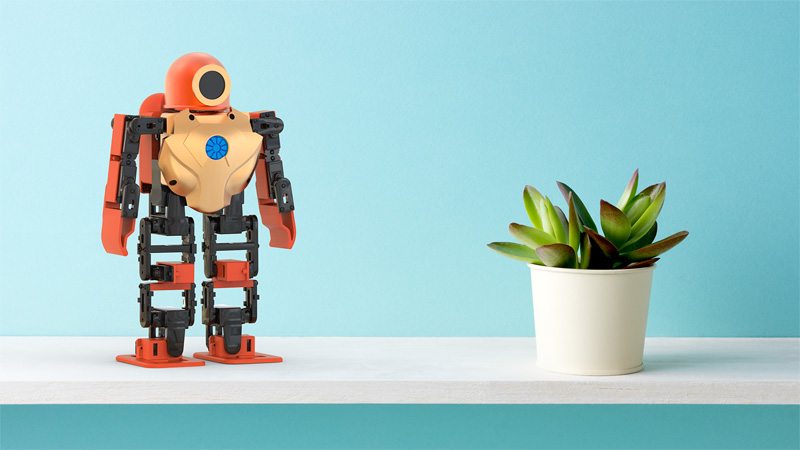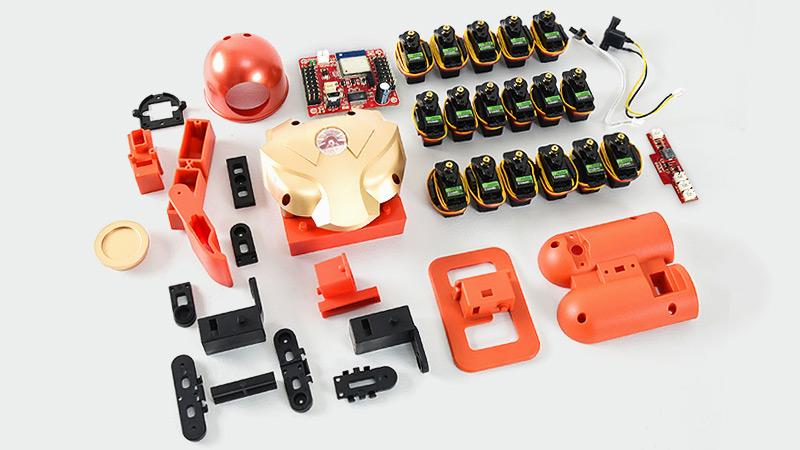 Notes from our tech department:
This is the Electric Powered Ready to Run RoboHero Programmable Humanoid Robot
from Thunder Tiger Robotix.
Humanoid robot walks, dances, bows, performs sit ups, push ups and
more…
Seventeen moveable joints
Built-in Arduino chip allows action sequences to be customized and
strung together as a series of action commands
Controllable by phone APP with easy to use Arduino open source
hardware and software-no cables or computers required-simply open
editor on Android or iOS device and program settings
RoboHero can also be programmed via USB
Battery indicator on chest illuminates when battery is low
Perfect introduction to robotics and the STEM program for students
RTR RoboHero Programmable Humanoid Robot
7.2V 550mAh Lithium Battery
AC Wall Type Battery Charger
Quick Start Guide
Approximate Height: 9″ (229mm)
Width: 4.5″ (115mm)
Depth: 3.1″ (80mm)
Weight: 17.6oz (500g)
Control Methodology: Wifi connection via Android or iOS-based device
using the free TT Robotix app
Controller: RoboHero V3.0 (Arduino IDE-compatible)
Servos: 17 metal gear, 13.9oz-in torque, 0.12 sec @60° speed
Battery: 7.2V 550mAh Lithium
Movement (degrees of freedom): Head 1°, Arms 6°, Legs 10°'
Also available as a kit, TTRX1010.
For technical or warranty support pleae contact;
productsupport@hobbico.com or 217-398-8970 ext. 5
Resources
Industry Review #1
Manufacturer Mailing Address
Thunder Tiger
Additional Manufacturer Contact Info